Last updated on December 29th, 2022
If you're a writer looking for advice, inspiration, and motivation, podcasts are a great way to get it. With so many writing-related podcasts out there (we looked at 238 for this article!), knowing which ones are worth your time can be challenging. That's why we've rounded up our own and our readers' favorites of 2022 on a range of topics that you should start listening to in 2023.
The popularity of podcasts continues to grow, with forecasts for listener numbers in the US to surpass 160 million in 2023. The top two podcast listening apps continue to be dominated by Apple Podcasts and Spotify (as of Nov. 2022):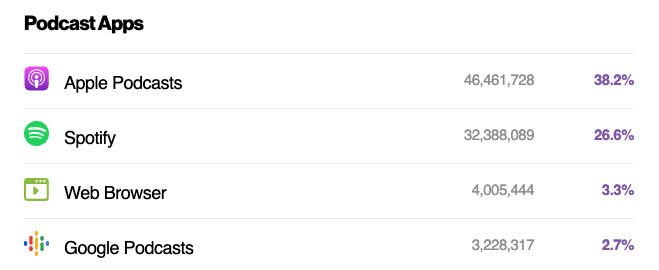 Whether you're a copywriter, screenwriter, novelist, or aspiring freelance writer, these podcasts offer valuable guidance and insight into the writing process. From grammar and character development to plot pacing and prose polishing, you'll find something new to learn and hopefully some inspiration with each episode. So tune in today and get ready to become a better writer!
Our criteria for this list is that the podcast is highly recommended/rated/reviewed, which generally means it's been around for a while, and it is still active with a new episode released in the last 90 days (as of Dec. 2022).
Best for creative writers looking for practical advice and encouragement to help them improve their writing.
The Creative Writer's Toolbelt is a podcast that focuses on giving practical advice and encouragement to creative writers. Each episode explores an aspect of writing technique with examples and interviews with successful writers across different mediums such as books, TV, comics, and more.
Hosted by British writer and mentor Andrew J. Chamberlain, the podcast covers topics such as story structure, technique, genre, process, and industry design with 30-60 minute episodes, including discussions on story, style, and character development. The podcast is officially on hiatus, but Andrew occasionally releases new episodes.
Review highlights
Best for aspiring or experienced authors who want to learn more about the writing, publishing, book marketing, and creative entrepreneurship process.
The Creative Penn Podcast, hosted by award-nominated and New York Times bestselling author Joanna Penn, offers weekly advice and information to authors wanting to go down the self-publishing route. Penn, an international speaker and creative entrepreneur, shares her experiences and interviews professionals in the field, covering topics such as developing craft and finding inspiration, publishing options, book marketing, and creative entrepreneurship. She frequently interviews well-known authors and professionals in the field.
Each episode lasts 45-60 minutes and includes show notes and a full transcript. The podcast has been downloaded millions of times across 228 countries, making it one of the most successful in its field.
Review highlights
Listeners praise Joanna Penn for her joyful, lovable style, positive attitude, comprehensive and reliable information, and excellent curation and analysis. They appreciate her progressive and rebellious mindset and willingness to dive deep into topics. Her guests are praised for providing insights into the business and craft of publishing. Listeners also praise the podcast for providing useful notes and transcripts.
Best for writers who are looking for a supportive and honest community to help them overcome creative blocks and to find their unique voice and story.
Write-minded is a podcast designed to provide writers with inspiration and advice to help them navigate the ups and downs of the writing life. Hosted by Brooke Warner of She Writes and Grant Faulkner of NaNoWriMo, each episode features an interview with a professional from the writing industry.
Topics range from addressing writer's block to taking risks, dealing with fear, and finding one's own voice. Each episode has a takeaway emphasizing the belief that everyone is a writer and that everyone's story matters. Writers struggling with creative blocks will benefit from the conversation, assurance, and advice offered.
Review highlights
Listeners appreciate the thoughtful and inspiring content presented by knowledgeable hosts. The episodes are informative, motivating, and engaging, introducing many amazing writers to the audience. The topics discussed include memoir writing, marketing, publishing, and book trends, providing invaluable insight to aspiring authors. The reasonable length of the episodes makes it easy to fit in during the day, and the quality and variety of content are appreciated.
K.M. Weiland hosts the Helping Writers Become Authors podcast, providing writers with practical advice and guidance on topics such as story structure, novel outlining, crafting characters, and honing prose. Each episode is roughly 15-20 minutes long and full of actionable tips and techniques.
With over 600 episodes, Weiland – an award-winning and internationally published author – is a great mentor for anyone looking to improve their writing craft. Her blog also offers posts on creativity, lifestyle changes that protect creativity, and more. Whether you prefer reading or listening, this podcast offers a great way to take your writing to the next level.
Review highlights
The podcast provides well-researched and impactful craft wisdom that has improved listeners' writing. Many listeners found the content concise, expert advice, beneficial and inspiring. Listeners also appreciate the short length of each episode and the fact that there is no filler or unnecessary information; a "writing class on the go."
Best for writers looking for an immersive experience to hone their writing and publishing skills.
DIY MFA is a podcast hosted by Gabriela Pereira and producer and co-host Lori Walker, offering insight and advice for aspiring writers. Through interviews with bestselling authors, master writing teachers, and publishing industry insiders, listeners (who they call "Word Nerds") will gain tools and techniques to take their writing to the next level.
Replicating an MFA lecture series, past guests have included Delia Ephron, Fran Hawthorne, Terena Elizabeth Bell, and Jojo Moyes. Along with discussions about the craft and business of writing, topics range from unique characters to tropes in literature, and more. Whether you're trying to finish a draft, craft a story, or make that publishing dream a reality, DIY MFA is a resource to help you achieve your writing goals. All without taking out any student loans!
Review highlights
Listeners appreciate Gabriela's enthusiasm and ability to ask insightful questions and draw out brilliant insights from her interactions, as well as her expert guests for offering useful advice and diverse perspectives on the creative writing journey. They also enjoy the humor and helpful content and highly recommend the podcast to others. The podcast is seen as a great resource for authors, providing helpful tips and advice on writing and collaboration.
Best for aspiring or professional writers looking for honest and inspiring advice on pursuing their passion and creating a healthy work/life/writing balance.
Write Now is an inspirational podcast hosted by Sarah Werner that provides encouragement and advice to help aspiring writers of all levels pursue their passions. It features conversations about the writing life, including struggles, breakthroughs, and tips, as well as topics like burnout, idea stealing, and affirmations for writers.
Sarah offers a personal touch, with a relatable and honest tone, and conversations with other writers in her "Coffee Breaks" segments. Listeners can get the motivation they need to stay on top of their writing goals and balance their work, life, and writing.
Review highlights
Listeners appreciate the insightful advice and information Sarah and her expert guests provide. Listeners have found the podcast immensely helpful, inspiring, uplifting, motivating, and compassionate. They have found the short episodes particularly inspiring and appreciate Sarah's openness and vulnerability in sharing her journey. Many have recommended the podcast to others, describing it as a "therapy session" and a "writing therapist."
Best for readers and writers looking for deep insights into the creative writing process and who want to hear conversations with some of the top authors in the world. Or those with long commutes!
The podcast Between the Covers, hosted by David Naimon and presented by Tin House, is a long-form literary show which features in-depth interviews with writers from various genres. These conversations explore the creative process behind successful books and sometimes last two hours or more. Praised by the Guardian, Book Riot, the Financial Times, and BuzzFeed, the show has become a go-to for writers and readers who want to learn more about literature.
The podcast also includes a special mini-series, "Crafting with Ursula," which discusses the work of science fiction writer Ursula Le Guin. Through these conversations, Between the Covers provides a unique insight into the world of writing and literature.
Review highlights
Listeners highlight the in-depth conversations, thoughtful questions and preparation, and educational value of the podcast. David's meticulous preparation is often commended, and the episodes are widely regarded as the most intelligent, deep, and generative conversations available.
Best for an audience who enjoys language, culture, and the nuances of expressions and words and who has an appreciation for language and its history.
A live, stimulating call-in radio show and podcast discussing language, including its evolution, debates, and variations. Hosted by author/journalist Martha Barnette and linguist/lexicographer Grant Barrett, the show invites callers to share their insights, questions, and stories about new words, old sayings, slang, family expressions, language change, varieties, word histories, linguistics, regional dialects, word games, grammar, books, literature, and writing.
In addition to listening on your favorite podcast app, the show is also broadcast on many local NPR radio stations.
Review highlights
Listeners of A Way with Words praised the show for its entertaining and educational content, diverse topics, passionate hosts, and ability to bring people together. Educators, radio station programmers, and linguistics experts have also expressed their appreciation for the show, calling it one of the best on public radio, a fantastic resource, and an excellent opportunity to engage with the English language.
Best for anyone who wants to brush up on their grammar, punctuation, and writing style or to gain a deeper appreciation for the English language.
Grammar Girl is a popular podcast from Mignon Fogarty offering insight into English grammar, punctuation, storytelling, and other aspects of writing. Whether you are a first- or second-language speaker of English, this podcast will help you become a better and more successful writer.
Episodes feature tips for grammar basics and more detailed writing advice, usually lasting less than 15 minutes, and are accessible on many audio platforms. Listeners can enjoy learning about how grammar has developed historically over time and understanding how to apply the rules and when to break them.
Review highlights
Listeners appreciate the podcast's informative yet fun content that is easy to listen to and follow. They enjoy Mignon's storytelling and find her lessons valuable and practical. They praise the podcast for its clear and concise information that is up-to-date and highly relevant. Additionally, the 10 to 30-minute format was appreciated for fitting into everyday life. However, some do complain about the ads-to-content ratio.