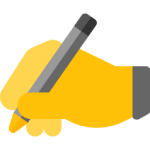 Try Rytr
Free 10,000 characters/mo
Best for Ease-of-Use with Affordable Plans
Rytr
Company
Location: Walnut, California, United States
Founded: March 2021
Pricing & Plans
Starting at $9/mo, with a free plan option
Free Plan – 10,000 characters per month
Unlimited Plans
Team Plans
Features
Templates: 40+ and custom
Tones: 20+
Languages: 30+
Summary
Rytr is an easy-to-use AI writing tool affordable plans (and a free plan too!) that can assist in generating blog posts, articles, social media marketing copy and more.
About Rytr
Rytr is an AI writing assistant that helps individuals and businesses to quickly generate content for a range of use cases.
The founders started work in March 2021, and launched in April 2021 after surveying the potential of OpenAI's GPT-3 technology with the goal of creating an intuitive AI writing assistant.
Pricing and Plans
Rytr is one of the most affordable AI writing tools, and offers a generous free plan that allows you to generate up to 10,000 characters/month (roughly 2,000 words), with no credit card required so you can try it out before committing to a subscription.
The free account could even be sufficient, depending on your needs. If you need more you can upgrade to several affordable monthly and annual plans, and pay as you go.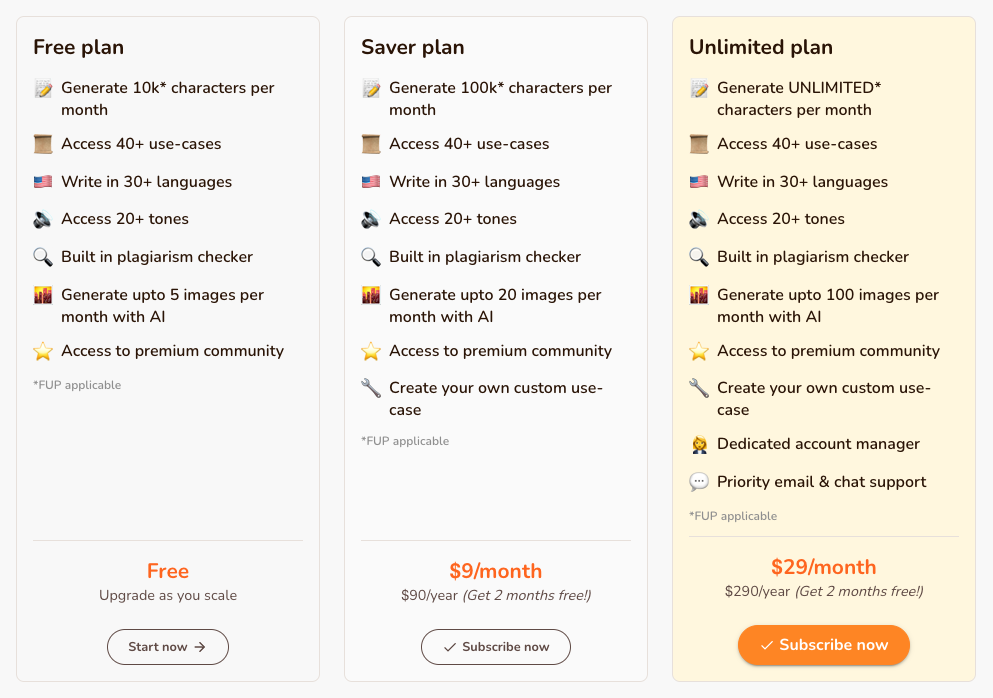 Features
Use Cases
Access 40+ use-cases with new ones being regularly added. Including YouTube ideas and video descriptions, SEO meta tags, CTAs and even generating song lyrics
Languages
Write in 30+ languages. Unlike other tools that rely on GPT-3, Rytr has their own proprietary method of supporting multiple languages which allows them to deliver a higher quality of output that is not restricted by the same limitations.
Currently available languages include 🇦🇪 Arabic, 🇧🇬 Bulgarian, 🇨🇳 Chinese (S), 🇹🇼 Chinese (T), 🇨🇿 Czech, 🇩🇰 Danish, 🇳🇱 Dutch, 🇺🇸 English, 🇮🇷 Farsi, 🇵🇭 Filipino, 🇫🇮 Finnish, 🇫🇷 French, 🇩🇪 German, 🇬🇷 Greek, 🇮🇱 Hebrew, 🇮🇳 Hindi, 🇭🇺 Hungarian, 🇮🇩 Indonesian, 🇮🇹 Italian, 🇯🇵 Japanese, 🇰🇷 Korean, 🇱🇹 Lithuanian, 🇲🇾 Malay, 🇳🇴 Norwegian, 🇵🇱 Polish, 🇵🇹 Portuguese, 🇷🇴 Romanian, 🇷🇺 Russian, 🇸🇰 Slovak, 🇸🇮 Slovenian, 🇪🇸 Spanish, 🇸🇪 Swedish, 🇹🇭 Thai, 🇹🇷 Turkish, 🇺🇦 Ukrainian, and 🇻🇳 Vietnamese.
One interesting use I found is to have Rytr act as a language translator, taking a prompt in one language and generating text in a different one. In this example I prompt, in English, for a Business Idea Pitch for a "Fitbit for dogs", and request the response to be in Danish.

I then used Google Translate to understand the result, since I don't actually know Danish. Impressive results!

Tones
Access 20+ tones that can be used to shape the generated text to fit your desired purpose.
These include Appreciative, Assertive, Awestruck, Candid, Casual, Cautionary, Compassionate, Convincing, Critical, Earnest, Enthusiastic, Formal, Funny, Humble, Humorous, Informative, Inspirational, Joyful, Passionate, Thoughtful, Urgent, and Worried.
Plagiarism Checker
Although AI generated text is largely unique, Rytr does include built-in plagiarism checking, via Copyscape. Simply select a section of text you want to validate and select the More -> Plagiarism menu item. This feature is included in all plans and any characters processed are counted toward your monthly usage budget.

Integrations
Browser Extension
With their browser extension for Chrome you can also take Rytr wherever you go online and generate copy directly in email, on social media, or in a blog post.

API Access
Rytr also offers API access to their system, which is a fairly rare feature for these tools, especially at this price-point.
Their API allows you to use their proprietary layer of best practices and templates-based training which runs on top of the GPT-3 model foundation. They offer endpoints to query for the currently available languages, use cases and tones which you can they send along with your input prompt to generate text output. They also allow access to their Custom Use-Case feature, allowing you to directly create your own prompts, bypassing the stock templates/tones for greater flexibility and customization.
Additionally, they provide a GitHub repo with code samples in Node, PHP and Python to make it easy to get started integrating into your systems.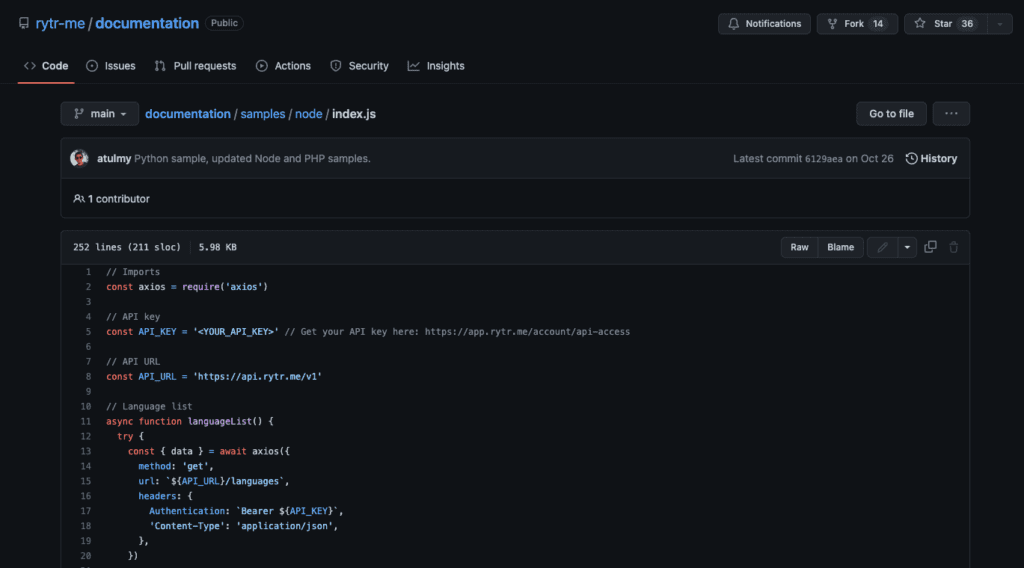 Use Case Examples
Rytr includes over 40 built-in templates to assist you in generating content. Here are a few highlights…
Blog Idea & Outline
A common use case is getting help coming up with blog topic ideas and outline. Using this template it's easy to create catchy blog, essay, and article topics and content structures.
Copywriting Frameworks: AIDA & PAS
Rytr includes two traditional copywriting framework templates: AIDAAIDAAttention, Interest, Desire and Action and PASPASProblem, Agitate, Solution. These frameworks provide structure and guidance to craft effective and persuasive copy for ads, emails, web pages and more.
The AIDA template helps to capture the reader's attention, create interest, build desire, and prompt them to take action. The PAS template helps to clearly identify the problem a customer is facing, agitate the problem to create a sense of urgency, and then provide a solution. Both frameworks focus on using persuasive language to convince the reader to take action.
Cover Letter
By prompting with a job role and list of skills you have, this template with create a compelling cover letter to include with a job application. Notable missing currently though is a Resume builder template to help you create the CV itself.
Pros & Cons
Pros
Affordable, with a generous free plan
Simple UI and easy-to-use
Custom text generation without having to use a built-in templates, via their "Magic Command" use case
Built in plagiarism checker
Active development with new features being added (e.g. SEO tools, AI Image Generation)
Cons
Search functionality isn't available yet to help locate previous document content.
Missing a couple common templates, like a Resume Builder, and Blog Intro
Teams aren't well supported yet, in terms of billing, admin, document sharing, collaborative editing, team project folders, share links, etc. But it is in development.
Additional Info
Roadmap and Future Features
Rytr is in active development and is adding new features and functionality over time. You can read about recent updates on their What's New page. They even publish a public Roadmap and solicit suggestions!
A couple recent additions include adding AI Image Generation, Semrush Integration, and SERP analysis.
Acquisition
Also of note, Rytr was been acquired by Copysmith in Oct. 2022, along with Frase to form a new company called… wait for it… Copyrytr. Look forward to the inclusion of additional capabilities as they work to integrate these products more tightly.
FAQ
Summary
If you're looking for an AI writing assistant that is both easy-to-use and affordable, while also having advanced features to help you grow, then Rytr is a great choice. With its simple setup, you'll be able to quickly get started and adjust to your needs as they change. Give Rytr a try and see what it can do for your content!